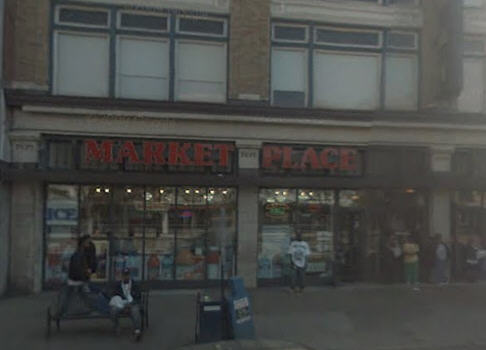 The Marketplace at 3rd and Broad was robbed* late last night. I remember 2 or 3 other serious incidents there over the past year. In addition to the crowded bus stop, it's a popular meeting place for folks with no particular place to go. If it was a bit more savory, it would be a convenient place to shop. In other good news there was a robbery yesterday morning in front of my building. I'm glad Marty Jewell thinks downtown is safer than the Chesterfield Mall. That must be a real shooting gallery.
ROBBERY
6/27/12 11:14 p.m.
312 E. Broad St.
An employee reported an unknown male assaulted him and robbed the business at gunpoint.
ROBBERY
6/27/12 6:00 a.m.
100 block of East Franklin Street
A female reported she was robbed by an unknown male.
*There's this additional bit of information from the RPD:
A clerk at a downtown Richmond convenience store was beaten during an armed robbery.

Richmond police Capt. Paul Kiniry said the clerk at the Broadway Market Place, in the 300 block of East Broad Street, refused medical attention after being struck in the head with a gun during Wednesday's 11:14 p.m. robbery.

There was no detailed description of the suspect, who fled on foot with an undetermined amount of cash.

Anyone with information can call Crime Stoppers anonymously at (804) 780-1000.