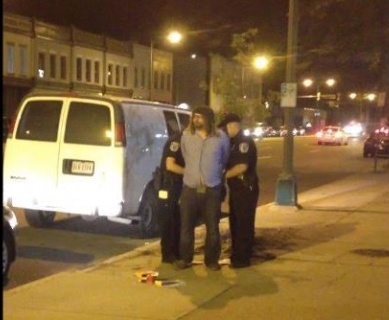 An arrest of a club owner over a parking dispute led to a three way battle of completing  press releases from the RPD, Charles Samuels and Charlie Diroudor.
First the set up from RVAMag.
Last night, Rand Burgess, owner of The Camel restaurant and nightclub, was arrested. According to a message posted on facebook by a Camel employee, Burgess saw that police were outside the venue ticketing cars owned by his customers, and went out to ask the police to give him 5 minutes to make an announcement and allow Camel patrons to move their cars before continuing to issue tickets. Instead of acquiescing to Burgess's request, the police on the scene promptly arrested him for obstruction of justice.
From the RPD:
The Richmond Police Department recently received a complaint that officers were not enforcing the no parking signs in the 900 to 2200 blocks of West Broad Street between 11 p.m. and 4 a.m. The citizen asked that officers either enforce the signs or remove them. …

For the next seven days, officers placed warning notices on all vehicles that were parked illegally, telling them that they were in violation and that officers would soon begin to enforce the no parking signs. Officers began ticketing illegally-parked vehicles this week.

While the Department cannot comment on specific arrests, people who interfere with an officer in the process of enforcing the law and refuses to let the officer do his or her job, can be charged with obstruction of justice.
Now Charles Samuels:
Over the past several days, I have been engaging with residents and business owners concerning the parking issues on Broad Street in Richmond's Fan District Neighborhood. I have reached out to the Richmond Department of Public Works Office of Parking and the Richmond Police Department to find a solution that will not only address the parking problems, but also keeps local residents safe.

Based on these conversations, I am planning on introducing legislation in Richmond City Council that will encourage the Administration to review the parking laws on this corridor. A year or two ago the Administration and I reviewed the cruising laws on Hermitage Road and we found options that allowed for additional parking. I am hopeful we can do the same here.

Residents in that area who have been instrumental in helping to revitalize West Broad Street by being willing to live there should not have life made harder for them by outdated parking rules.
and finally Charlie Diradour weighs in:
Recently, our current councilman decided to use our tax dollars to have a study conducted on whether we should pull the no parking signs down on Broad Street in the commercial district.  You know the ones:  the signs that were placed along a stretch of West Broad in the early 90's to dissuade cruisers and prostitution.  The signs that don't allow parking between the hours of 11pm and 4am.

Recently, Richmond Police wrote tickets in front of The Camel at approximately 11 pm.  After years of not enforcing the ordinance that the signs address, RPD wrote tickets.

Why?

Simple.  A concerned citizen wrote our current councilman and asked him to either pull them down or enforce them.  Next?  Tickets.  Next?  A study.  Next?  Our tax money goes for a study that is illogical.  Next?  Who knows?

But this much I do know.  Businesses such as The Camel and The Firehouse Theater are being impacted in a negative manner.  The City should work with small businesses, not against them.  And let's not forget about residents who also need parking there.  If our current Councilman spent time talking with business owners and residents, actually listening to their concerns as I have, he'd have the experience to handle this situation in a productive and active manner – not propose another study.
Stay tuned for more great prose.
Hat tip to Fan of the Fan.