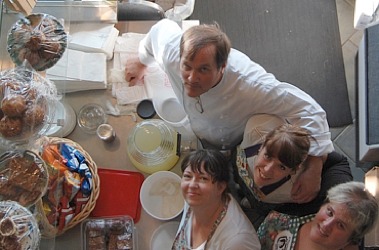 There's good and sad restaurant news today.  First the sad.
Ettamaes, one of Jackson Ward's most creative and  highly regarded restaurants will be closing its doors.  From RVANews:
In some surprising news, Ettamae's Cafe, the adorable restaurant in Jackson Ward next to the Hippodrome, will be closing its doors on Monday, May 14th. The restaurant got rave reviews from media around town, was listed as one of Richmond's best new restaurants by Richmond Magazine, and even had some good press in The New York Times.
Sad news indeed.  More on this later.  Now for the good.  Travel Channel's Adam Richman will again feature The Black Sheep in his new sandwich oriented show, America's Best Sandwich.   It was originally featured on his previous series, Man vs. Food.    Again from RVANews:
According to Richmond.com, Black Sheep's CSS Virginia is in the running to be America's Best Sandwich. Travel Channel's Adam Richman is kicking off a new sandwich-focused show by traveling around the country in search of America's best between two slices of bread. The show will launch on June 6th at 9pm and will visit twenty-seven restaurants across the United States in an eleven-episode weekly show. Black Sheep is the only restaurant chosen in the state of Virginia. Way to go Black Sheep and RVA!