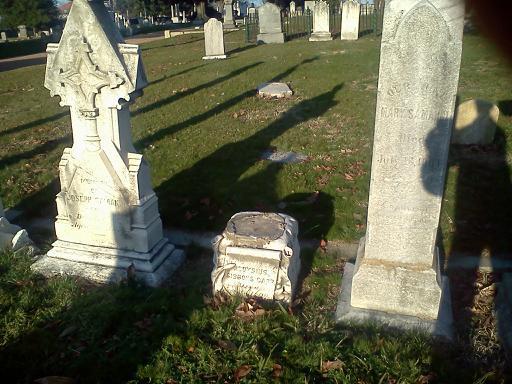 via the Friends of Shockoe Hill Cemetery:
On December 30th, former Friends of Shockoe Hill Cemetery President, Doug Welsh, reported the loss of one of our grave stones, the Sammani sculpture.  The sculpture was of 16 year old, Aloysius Gibbons Carr, who died of Typhoid Fever in 1890.  Within days of our theft, the Hebrew Cemetery reported the loss of their "High Priest" statue.

 

Immediately following these reports, the Friends of Shockoe Hill Cemetery called the City of Richmond Police Department to find if the investigators on the two cases thought they were connected.  The Friends stayed in close contact with Richmond Police to provide information that they might need to successfully complete their investigation of the thefts, which by now had become a combined investigation.

 

Within days of the thefts, Detective Patrick Mansfield of the Richmond Police Department was able to locate and return both statues to their rightful resting places.