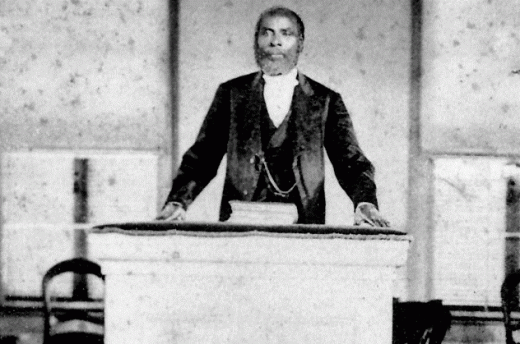 The Virginia Historical Society is sponsoring a lecture on John Jasper this Thursday at noon.  See the end of this post for details. John Jasper is another of those extraordinary people who emerged at the end of the Civil War to become part of Richmond's Black aristocracy.  He founded the Sixth Mount Zion Baptist Church and became famous for his signature sermon, "De Sun Do Move".  Jasper used the vernacular of the era which is jarring to modern ears. Here's a sample I got from VCU's James Branch Cabell Special Collections.  There was a "translation" published by John Bryan that is available online and from the Richmond Visitors and Convention Bureau.  I'm still looking for a sound recording.
"But I kin read de Bible and git de things whar lay on de top uv de soil. Out'n de Bible I knows nuthin' extry 'bout de sun. I sees 'is courses as he rides up dar so gran' an' mighty in de sky, but dar is heaps 'bout dat flamin' orb dat is too much fer me.

I know dat de sun shines powerfly an' po's down its light in floods, an' yet dat is nuthin' compared wid de light dat flashes in my min' f rum de pages of Gord's book. But you knows all dat. I knows dat de sun burns oh, how it did burn in dem July days. I tell yer he cooked de skin on my back many er day when I wuz hoein' in de corn fiel'. But you knows all dat, an' yet dat is nuthin' der to de divine fire dat burns in der souls uv Gord's chil'n. Can't yer feel it, bruthrin?
When the Sun Stood Still: Reflections on the Reverend John Jasper
Thursday, February 23 (noon)
By Samuel K. Roberts
Banner Lecture Series
Among the larger than life personages in Richmond during the latter years of the nineteenth century is to be counted the pastor of Jackson Ward's Sixth Mount Zion Baptist Church, the Rev. John Jasper. He was born a slave in the second decade of the century, and his mark on Richmond's popular consciousness lasts even to the present. In large measure, this is because of a sermon he first preached in 1878, "The Sun Do Move and the Earth Am Square." Hailed by some and vilified by others, Jasper's sermon seemed to defy modern notions of astronomy. Yet, he was asked to preach it more than 250 times, including before the General Assembly, before his death in 1901. Reflections on this enigmatic character will explore the context in which his audiences heard him, as well as that of our own. Samuel K. Roberts is the Anne Borden and E. Hervey Evans Professor of Theology and Ethics at Union Presbyterian Seminary. This lecture is cosponsored with Sixth Mount Zion Baptist Church